SPECIALIST PSYCHOLOGIST ALPTEKIN AYDIN OFFERS GROUND-BREAKING TREATMENT!
Alptekin Aydin has completed the International TMS Clinical Certification Course.
Specialist Psychologist Alptekin Aydin successfully completed the Clinical Certification Course in Transcranial Magnetic Stimulation (TMS). This course is officially recognised by the European Union of Medical Specialist (UEMS) and accredited by the European Accreditation Council for CME (EACCME)

He is keen to encourage innovative new rTMS treatments combining with Cognitive Behavioural Therapy (CBT) to offer the quickest solutions for mental health conditions without any medication side effects that can occour with antidepressants.

What is Transcranial Magnetic Stimulation (TMS)?

Targeted Transcranial Magnetic Stimulation, is approved by both the National Institute for Health and Care Excellence (NICE) in the UK and the Food and Drug Administration (FDA) in the U.S. . rTMS is a relatively short, non-invasive, outpatient treatment. That means that it doesn't involve surgery, there's no anaesthesia or sedation required, and no down time needed afterwards. It is pain-free and unlike antidepressant medication, side effects are both uncommon and very mild. You stay awake and alert throughout the treatment. TMS therapy is also non-systemic, which means that it has no effect on other areas of your body as antidepressants can.
Electricity is the language of the brain and problems with mental health occur when regions of the brain are not communicating properly. By analysing the electrical activity in your brain, it tells us what and where any problems lie. rTMS uses magnetic pulses to stimulate the neurons in the brain related to mood and anxiety, where communication between neurons is either over-active or under-active. The magnetic field produced by the rTMS equipment induces or reduces electrical activity in the neurons. You should continue taking medication, including medication for mental health, as usual. There is no interaction with rTMS, and medication does not influence your pre-treatment Mental Health Assessment.

A typical TMS treatment course includes daily sessions (5 times per week) for 4 to 6 weeks—though some people find it helpful to occasionally return for maintenance treatments following the initial treatment course. A TMS session generally lasts for 20 to 40 minutes, although with the recent developments Mr Aydin told us that he can optimise the TMS Efficacy. With a comfortable and safe low-frequency faster protocols called iTBS this protocol can reduced the sessions as short as 3-7 minutes and sessions can be applied 3-4 times within same day. So instead of classical TMS treatment which takes 4-6 weeks patients will have the chance to be treated within 7 days.

How it works
During the rTMS session, an electromagnetic coil is placed against your scalp near your forehead. The electromagnet painlessly delivers a magnetic pulse that stimulates nerve cells in the region of your brain involved in mood control and depression. It's thought to activate regions of the brain that have decreased activity in depression.

This is a revolutionary treatment which has been shown to increase recovery rates in patients who either cannot tolerate drug treatment or who have seen no improvement in their condition with the use of medication. An additional benefit is that there are no systemic side-effects, unlike most drug treatments.
What can be treated?

Depression
Panic Attack and Anxiety
Alcohol Addiction
Nicotine addiction
Gambling Addiction
Drug Addiction
Obsessive Compulsive Disorder (OCD)
Attention deficit hyperactivity disorder (ADHD)
Post-traumatic stress disorder (PTSD)
Bipolar Disorder
Schizophrenia
Suicidal thoughts
Trauma
Motor Stroke rehabilitation(face, hand or leg)
Motor and Mood Symptoms of Parkinson's Disease
Alzheimer's disease
Neuropathic Chronic pain
Epilepsy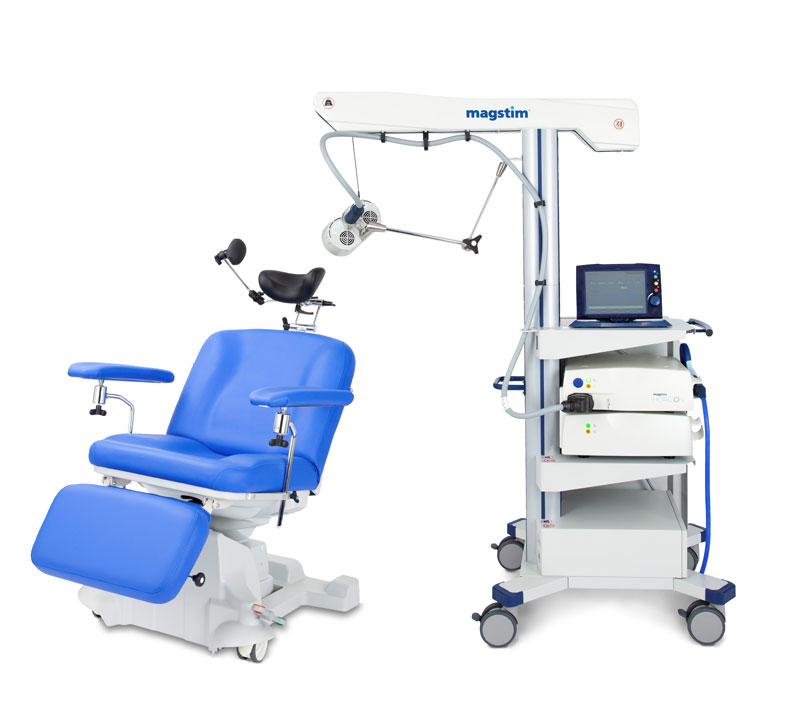 Is TMS covered by the NHS?
At present, TMS treatment is widely available through private clinics in the UK. Some TMS clinics are working towards establishing a joint effort with their local NHS trust & the clinical commissioning group (CCG) within their region to provide funding for severe cases. This relationship is in a work in progress and will take some time to be established.

The treatment was approved by NICE in 2015 for treating depression; yet as a new treatment, it is not widely available in the UK, with just 3 NHS trusts and a handful of private clinics offering the service.

The alliance of Smart TMS and Northamptonshire Healthcare NHS Foundation Trust is set to increase availability of the treatment in both Northampton and London for both NHS and private patients and Camden and Islington trust has becomes the first London based NHS provider of TMS Therapy.
We know that the combination of latest technology devices and personal experience, knowledge and expertise for managing the TMS machines cannot be considered as a cheap treatment but when we consider the benefits, quick solutions almost without any side effects, rTMS therapy offers a huge opportunity for those who suffer from any ongoing Motor Stroke issues, Depression, OCD, Panic Attack & Anxiety, Substance Misuse or any other mental health issues.
Please contact for the initial assesment and treatment options CONTACT US