Children with Autism, ADHD and Learning Difficulties
I am following transparent policy for the treatment so every family share their positive and negative feedback regarding their treatment. I have created this group for the families to keep in touch with each other and share their treatment experiences meanwhile give guidence for the new families who is thinking about the treatmet.


How is our Transcranial Magnetic Stimulation (TMS) & Cognitive Behavioral Therapy (CBT) works.

Private Facebook Groups For Families to share their treatment experience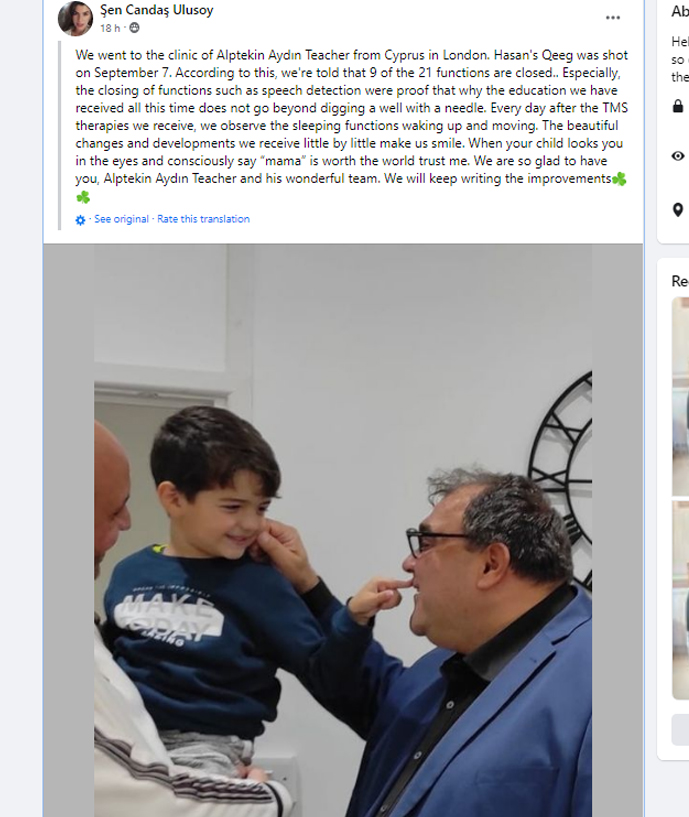 We went to the clinic of Alptekin Aydın Teacher from Cyprus in London. Hasan's Qeeg was shot on September 7. According to this, we're told that 9 of the 21 functions are closed.. Especially, the closing of functions such as speech detection were proof that why the education we have received all this time does not go beyond digging a well with a needle. Every day after the TMS therapies we receive, we observe the sleeping functions waking up and moving. The beautiful changes and developments we receive little by little make us smile. When your child looks you in the eyes and consciously say "mama" is worth the world trust me. We are so glad to have you, Alptekin Aydın Teacher and his wonderful team. We will keep writing the improvements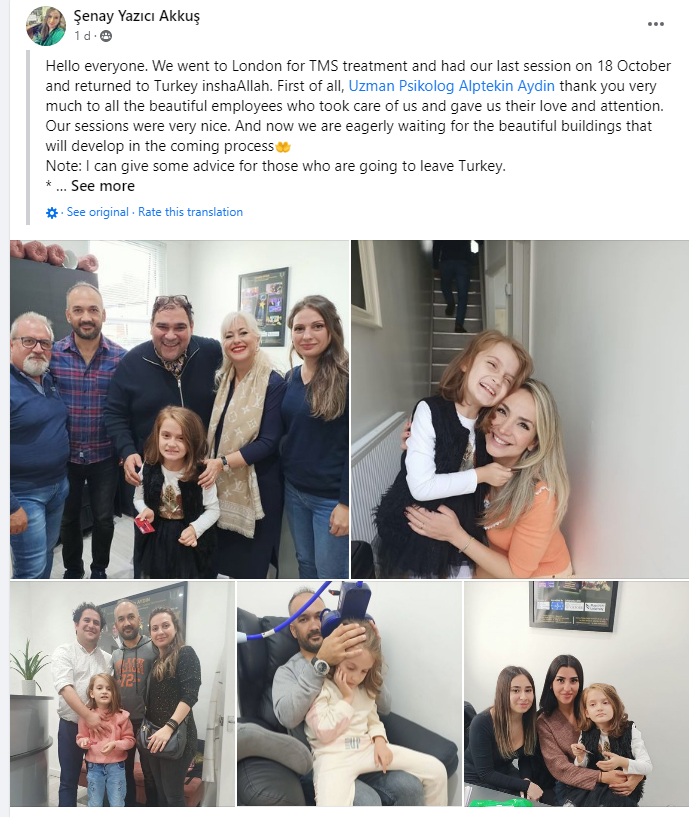 Hello everyone. We went to London for TMS treatment and had our last session on 18 October and returned to Turkey inshaAllah. First of all,
Uzman Psikolog Alptekin Aydin
thank you very much to all the beautiful employees who took care of us and gave us their love and attention.
Our sessions were very nice. And now we are eagerly waiting for the beautiful buildings that will develop in the coming process
* We were going to the sessions twice a day and thinking about our future, so we tried to make it close, but since the sessions are back to back, you go once a day.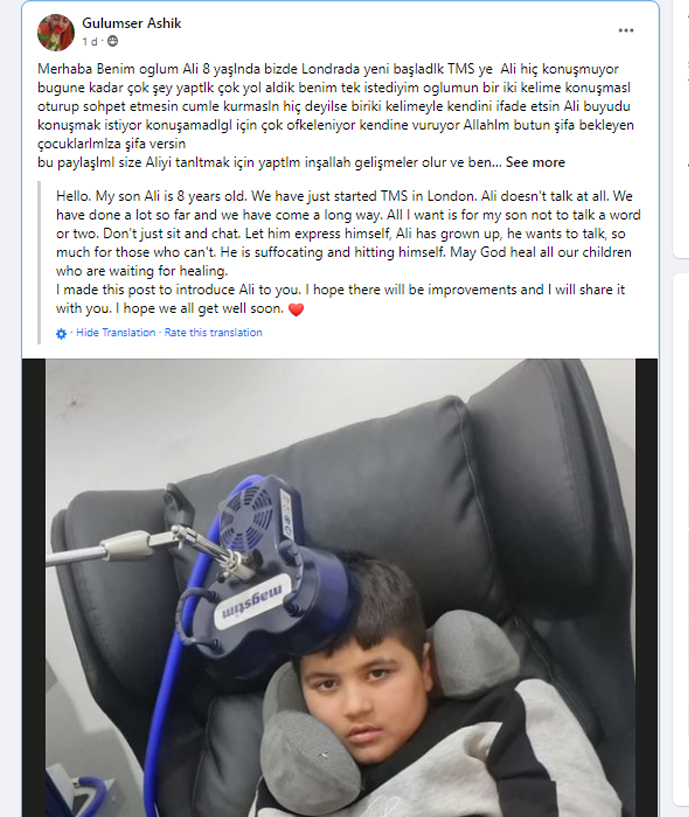 Hello. My son Ali is 8 years old. We have just started TMS in London. Ali doesn't talk at all. We have done a lot so far and we have come a long way. All I want is for my son not to talk a word or two. Don't just sit and chat. Let him express himself, Ali has grown up, he wants to talk, so much for those who can't. He is suffocating and hitting himself. May God heal all our children who are waiting for healing.
I made this post to introduce Ali to you. I hope there will be improvements and I will share it with you. I hope we all get well soon.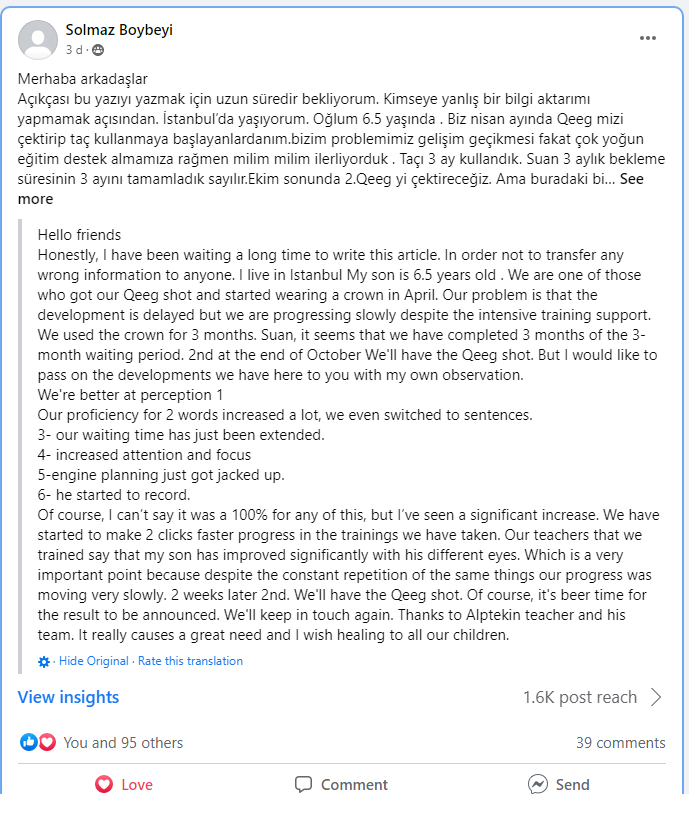 Hello friends
Honestly, I have been waiting a long time to write this article. In order not to transfer any wrong information to anyone. I live in Istanbul My son is 6.5 years old . We are one of those who got our Qeeg shot and started wearing a crown in April. Our problem is that the development is delayed but we are progressing slowly despite the intensive training support. We used the crown for 3 months. Suan, it seems that we have completed 3 months of the 3-month waiting period. 2nd at the end of October We'll have the Qeeg shot. But I would like to pass on the developments we have here to you with my own observation.
We're better at perception 1
Our proficiency for 2 words increased a lot, we even switched to sentences.
3- our waiting time has just been extended.
4- increased attention and focus
5-engine planning just got jacked up.
6- he started to record.
Of course, I can't say it was a 100% for any of this, but I've seen a significant increase. We have started to make 2 clicks faster progress in the trainings we have taken. Our teachers that we trained say that my son has improved significantly with his different eyes. Which is a very important point because despite the constant repetition of the same things our progress was moving very slowly. 2 weeks later 2nd. We'll have the Qeeg shot. Of course, it's beer time for the result to be announced. We'll keep in touch again. Thanks to Alptekin teacher and his team. It really causes a great need and I wish healing to all our children.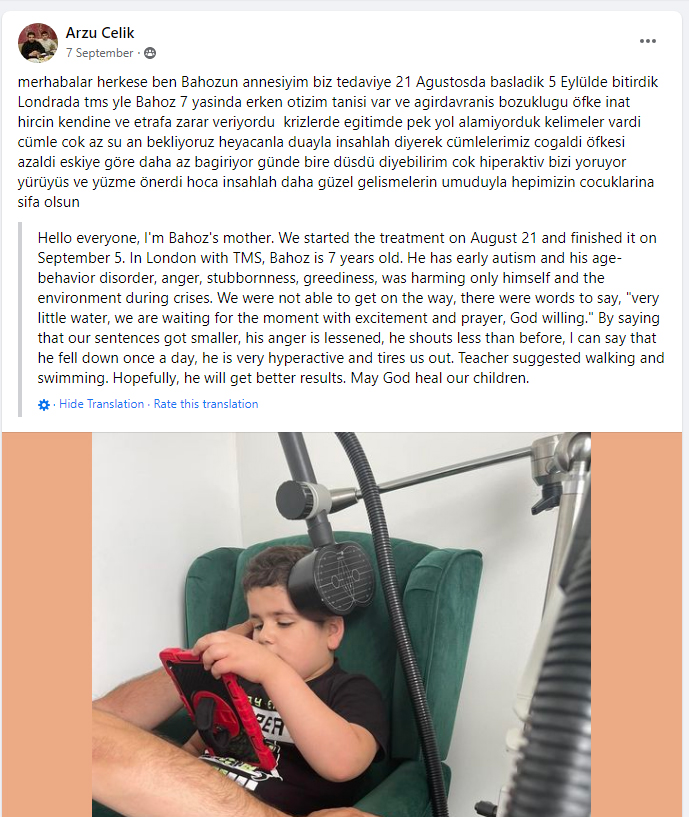 Hello everyone, I'm Bahoz's mother. We started the treatment on August 21 and finished it on September 5. In London with TMS, Bahoz is 7 years old. He has early autism and his age-behavior disorder, anger, stubbornness, greediness, was harming only himself and the environment during crises. We were not able to get on the way, there were words to say, "very little water, we are waiting for the moment with excitement and prayer, God willing." By saying that our sentences got smaller, his anger is lessened, he shouts less than before, I can say that he fell down once a day, he is very hyperactive and tires us out. Teacher suggested walking and swimming. Hopefully, he will get better results. May God heal our children.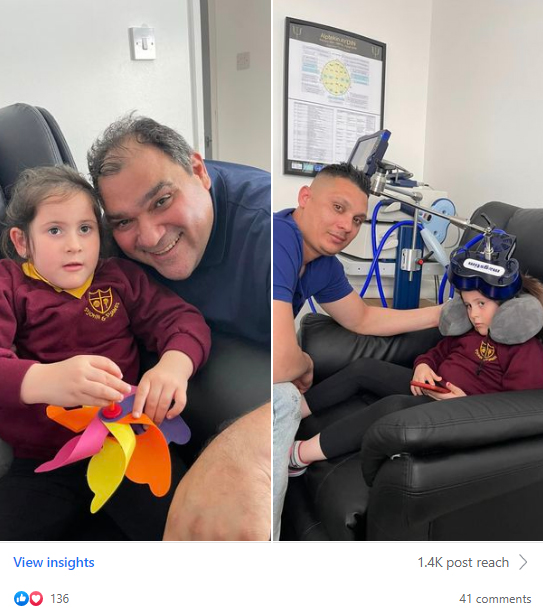 Today, my beloved sweet Güler has been complete the 30th session of her treatment. Now we will wait 3 months to do her post qEEG functional brain scanning.
There were epileptic waves at many of her brain lobs at Güler, if the treatment was done without seeing this, the chance of triggering epilepsy would be very high. Since our personlised qEEG guided treatment checking these waves to prevent any trigger or side effect. Even though Guler session just completed, Her fathers ( you can see him on the photo right) He said that "the doctors could not do anything for Guler, and that she could not use anything other than epilepsy medication, When she came to Dr Aydin, she has no words, could not understand what was said, very stubborn, did not listen and could not learn. Now her 30 sessions just over today, Normally Dr Aydin Said, neurological treatment should have to wait at least 2-3 months to see the actual changes, Güler has already started to eat her own food, she loves to wear earrings, if someone is missing, she immediately understands and wants it, she wants a balloon, she wants a phone, she started to talk and ask everything word for word, after that, she started to make short sentences. she can't dress herself yet, but she takes off her own clothes. She understands everything and awareness has reached almost 100% level.
His father also has just joined our group.So you can ask any question regarding her situation and improvements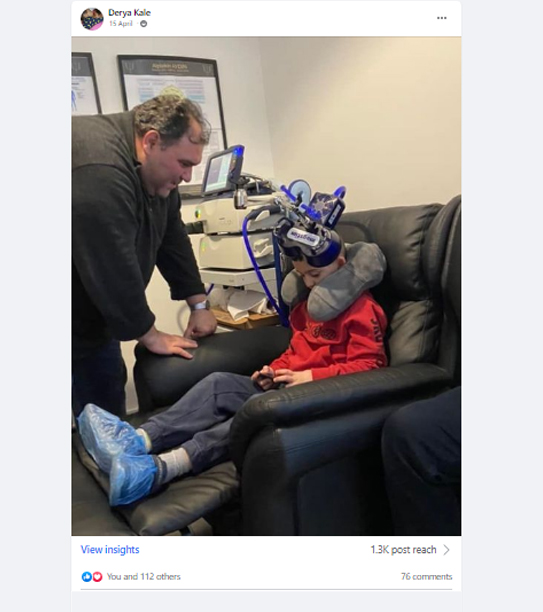 Good evening everyone. We also have nice things to share with you. First of all, I would like to thank our valuable teacher Uzman Psikolog Alptekin Aydin for such a miraculous treatment.
I wanted to tell you about my son Cem. Cem is 8 years old. My son is diagnosed with autism. null. Cem was a child who spoke very little, had fears, did not react when called, did not make eye contact and did not play with his age. We started TMS treatment. We started to see changes in the first session. Now the 21st session is over and Cem is able to speak, make long sentences, make eye contact while talking, play games with his friends, his fears have been reduced and most importantly Cem is able. Expressing himself. He knows now
we are in the happiness of starting to see its effect in such a short time
glad we don't say autism is permanent anymore Children need nice people like you because I have you. My dear teacher, Alp Tekin Aydın
GULSEN KURT
Hello friends I am also treating my son in a clinic in London. We did 30 sessions. I wanted to write about the positive changes in my son. Maybe there will be hope for you too. My son is also aware, he communicates more, uses different words. The most important thing is that our son had many cases of falling. We had a balance problem. He kept falling. He runs and walks better after the session.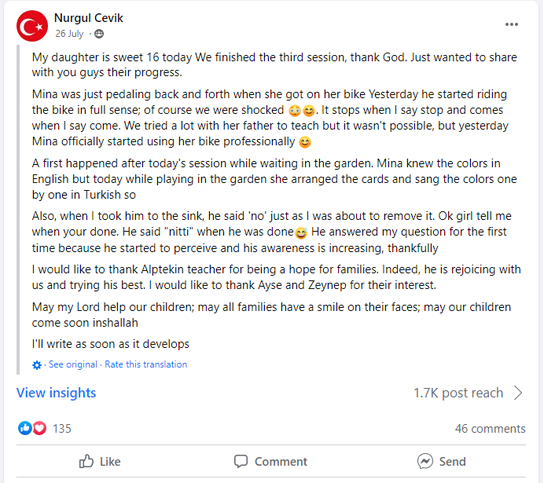 My daughter is sweet We finished the 16th session, thank God. Just wanted to share with you guys their progress.
Mina was just pedaling back and forth when she got on her bike Yesterday she started riding the bike in full sense; of course we were shocked
. It stops when I said stop and comes when I say come. We tried a lot with her father to teach but it wasn't possible, but yesterday Mina officially started using her bike professionally
A first happened after today's session while waiting in the garden. Mina knew the colors in English but today while playing in the garden she arranged the cards and read the colors one by one in Turkish so
Also, when I took her to the toilet, she said 'no' just as I was about to remove it. Ok girl tell me when you done. she said "nitti" means finished in turkish when she was done
sHe answered my question for the first time because she started to perceive and her awareness is increasing, thankfully
I would like to thank Dr Alptekin for being a hope for families. Indeed, he is being happy and proud with us and trying his best. I would like to thank Ayse and Zeynep for their interest.
May my Lord help our children; may all families have a smile on their faces; may our children come soon inshallah
I'll write as soon as it develops